"Evil jello eating monsters"
--Slimepedia
Zombie Slimes appear at night. They produce no plorts, but eat all slimes they find. It produces is
gel
.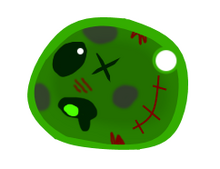 Slimepedia
Diet: Slimes
Favourite: Gold Slimes
Slimeology
Now, these slimes also don't eat flesh. Again, the same story as for the skull slime, everybody is scared of it. It will only eat a toe or two, however.
Rancher risks
These slimes will only bite and eat. Its only use is for gel.
Plortonomics
It has none. Only gel, then gel, and only then does it produce gel.
Appearance
It has a few green scars, cuts, and bruises.
Tips
Only keep one of them in a corral (They eat any slime which won't eat them first).
Trivia
???
Gallery
???