This food is free to use without the creator's permission!
Template:Infobox Food
"Made for everyone,especially slimes."
-Slimepedia
The Blueberry Waffle is a very rare type of food,it's a blue waffle with.....fruits.
On the ranch
Deposit a Blue seed(its seed)into a garden's depositor and you'll grow a large Blue Waffle tree of your very own.This tree will last for several harvests.
Its flavor is sweet as a Mint Mango,but sweeter than that fruit. It's rare to see it because ranchers only see 1 and when the B waffle tree grows, it will give you 20 B waffles.
Gallery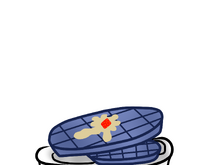 DON'T YOU TRY TO GOOGLE 'BLUE WAFFLE' KIDS. IT IS NOT SAFE. DON'T YOU TRY TO.
Ad blocker interference detected!
Wikia is a free-to-use site that makes money from advertising. We have a modified experience for viewers using ad blockers

Wikia is not accessible if you've made further modifications. Remove the custom ad blocker rule(s) and the page will load as expected.